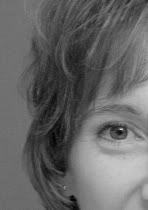 That's what I said to my husband as I squeezed my eyes closed, certain he was going to back the pickup right into the garage door. He finally did brake, slid the gearshift into park, and turned to me. "No, it's you people without depth perception who are scary."
I laughed. He had a point.
My eyes have been causing me mild trouble for as long as I can remember, though most of it has been social. Because my eyes are slightly crooked, I often look like I'm focusing on a point just beyond whoever I'm talking to. I've known since I was a kid what it means when people look a bit confused while talking to me or take a glance over their shoulder to see what I'm looking at. I can tell when someone is looking at my eyes rather than into them.
Sometimes people are quite blunt in their response. "So, what's up with your eyes?" my neighbor asked a few weeks ago at church after we'd been talking for a few minutes.
Hoo boy, here we go again.
"I was born with crossed eyes and had surgery when I was a baby to fix it. But they're still not quite straight."
"Oh. Let me see."
So I looked at him, and he looked at my eyes.
"Which one are you looking out of?" he asked, going back and forth.
"My right. It's the strongest, so my brain automatically suppresses the image from my left eye. Otherwise I'd have double vision."
"Wow, that's so cool!"
Can you believe, that's not how I feel about it most of the time.
It wasn't until I was in my early thirties that I learned there was an official-sounding word for my crooked eyes.
"It's called strabismus," the doctor said.
"What does that mean?" I asked.
"It's when your eyes don't work together or see the same image. It also means you don't have much depth perception."
The not working together and suppressed images I had known about. The lack of depth perception was new information. I don't have depth perception? What does depth perception look like then?
"You probably use other cues to compensate for the lack," he said.
I thought about how I line up the screw on the windshield wipers with the crack in the driveway to make sure I'm parking our van correctly. Not everyone does that?
It got me thinking about sight and blindness—how having any vision at all makes me susceptible to believing I can see everything. How I suppress images without conscious thought. How I don't know what depth looks like. How I'm compensating with cues in ways I'm not even aware of. How I was unable to recognize what I couldn't see.
Knowing that I am blind in some ways has helped me to be more careful, less convinced of my own reality. I have to trust what others tell me is true, even when it doesn't appear that way to me. It's humbling, irritating, and fairly constant. And while I often wish I could look someone square in the eye, could have conversations without ever seeing that confused look, could back up a car without cringing, I recognize that I've learned a few things from my crooked eyes. I'm not quite grateful yet, but maybe someday I will be.
Related posts:
Continue reading at the original source →