Do you use iGoogle?  iGoogle is a great way to personalize and organize information that is important to you.  You can track your email, your blogs, visitors to your site, keep a task list, play games, watch videos, and all kinds of other things by adding Google Gadgets to your own personalized page.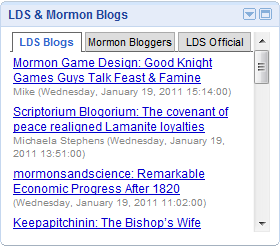 Try out the new Nothing Wavering Google Gadget.
Once it has been added to your iGoogle page, you can drag and drop it to whatever place best suits you.
By default, the gadget has tabs for LDS Blogs, Bloggers, and Official LDS Content.  Any of these tabs can be hidden using the gadget settings. The settings also  allow you to add an additional General Conference tab with links to audio and video from the most recent conference, and you can customize the number of titles that appear under the tabs.
Even if you don't use iGoogle, Google Gadgets can be added to any webpage, so if you would like to display the Nothing Wavering gadget in the sidebar of your blog or website.  You can customize the width, height, color, tabs to display, and number of titles using a simple editor that allows you to copy and paste a snippet of JavaScript code into you page.
Go here to get the Nothing Wavering Gadget for your own page.
Here is a live, working example embedded right into this post:
A number of people are already using iGoogle and Google Reader to follow the Nothing Wavering RSS Feeds. Because of the way Google prioritizes feeds, sometimes new content doesn't show up until hours after it has been posted. The gadget has an advantage over viewing the feeds on Google because it contacts nothingwavering.org directly and uses a custom, light-weight xml format that is only cached by Google for 15 minutes. So if you want to keep up with new content in a more timely fashion, the gadget should be a big improvement. And for the iGoogle page, it is easier to manage all of Nothing Wavering's content in a single, tabbed gadget than to have multiple gadgets for each RSS feed.
Though I am not aware of any, there might be a bug or two that I did not catch, so please be patient and report any problems here.
In the future, I will also be adding support for Google Desktop, so that the gadget can be displayed right on your Desktop.
Please try it out, add it to your iGoogle page and your your website, and share it with your friends to help promote good LDS content on the web!