Do you use iGoogle?  iGoogle is a great way to personalize and organize information that is important to you.  You can track your email, your blogs, visitors to your site, keep a task list, play games, watch videos, and all kinds of other things by adding Google Gadgets to your own personalized page.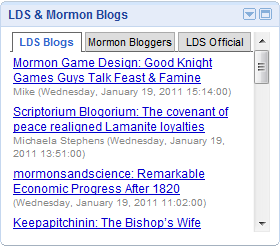 Try out the new Nothing Wavering Google Gadget.
Once it has been added to your iGoogle page, you can drag and drop it to whatever place best suits you.
By default, the gadget has tabs for LDS Blogs, Bloggers, and Official LDS Content.  Any of these tabs can be hidden using the gadget settings. The settings also  allow you to add an additional General Conference tab with links to audio and video from the most recent conference, and you can customize the number of titles that appear under the tabs.
Even if you don't use iGoogle, Google Gadgets can be added to any webpage, so if you would like to display the Nothing Wavering gadget in the sidebar of your blog or website.  You can customize the width, height, color, tabs to display, and number of titles using a simple editor that allows you to copy and paste a snippet of JavaScript code into you page.
Go here to get the Nothing Wavering Gadget for your own page.
Here is a live, working example embedded right into this post: